Following customer demand Outriggerpads has developed an innovative new incline pad system.
After receiving repeated enquiries from customers for pads that could be used on sloping ground, Outriggerpads started work on developing an incline pad system. Having previously offered bespoke
incline pads, this time the team wanted to provide something where the angle could be adjusted and height increased to suit customers needs.
The new Incline Pad System follows a similar design to that of Outriggerpads other successful product – the ECOSTAK Stackable Jacking Blocks – whereby different elements of the system can be cleverly interlocked ensuring that the system is safe and secure. Part 1 of the system is the Inclined base pad – which used on its own can achieve a 5 degree angle. When part 2 of the system is interlocked on top, this then increases the angle to 10 degrees. Should the user require additional height then this can be achieved by adding Outriggerpads' ECOSTAK PLUS Stackable Jacking Blocks on top of the system – which have been designed to be compatible with Inclined Pad System.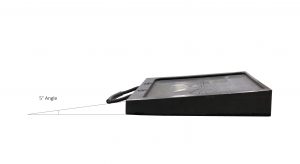 The Outriggerpads team said: "We wanted to develop a product that would be adjustable to accommodate different heights and angles yet still be operated on safely – the interlocking design of the Incline Pad System has enabled us to achieve that."
The Incline Pad System is now available to purchase HERE or by calling a member of our team on 01952671403.