TVH New Zealand has taken its first stock delivery of Outriggerpads & successfully launched the range into the market.
In March 2021, TVH New Zealand successfully launched Outriggerpads alongside its extensive catalogue of parts. This is the first shipment to New Zealand for Outriggerpads, Charles Grizzle, Business Development Manager, said: "This is a really exciting order for us, not only moving into a country we've never sold to before, but to have stock held there is a great asset to the brand."
"We have enquiries from all over the world, and being able to send customers to the team at TVH New Zealand means our customers are getting the same quality products, in a fraction of the time it would otherwise have taken."
TVH New Zealand selected a range of pads they wanted to stock based on their customer base, the team also received training from the UK team on Outriggerpads. Brendan Chillingworth, Managing Director of TVH New Zealand said, "The launch of Outriggerpads into our range has gone brilliantly. Having outrigger pads in stock enables us to break into new markets and upsell from there."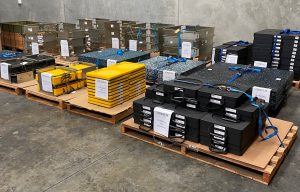 "We've got some trade shows planned where we plan to showcase our new range of Outriggerpads."
Outriggerpads have so far successfully launched into two of the TVH subsidiaries so far this year, both TVH New Zealand and TVH Australia.