An innovative new outrigger pad designed to protect high-value floors is now available in the UK.
The integrated non-marking rubber base makes these spreader plates ideal for use on high value floors in hotels, shopping centres, stately homes and similar venues. The top surface is made of extremely durable ultra-high molecular weight polyethylene (UHMWPE), guaranteeing a long working life.
Bill Green of Outriggerpads said: "A lot of internal work in sensitive areas is carried out by spider lifts which require outrigger pads. Our poly-rubber pads provide complete protection for expensive flooring such as marble or oak, without compromising the durability and stability benefits of a standard pad."
Outriggerpads is the new name for Suffolk-based PLC Sales, which recently became part of the IAPS Group, the UK's largest independent full-service distributor of powered access platforms and replacement parts.
Along with the new poly-rubber pads to protect expensive floors, we are now offering a Hi Viz range of high visibility spreader plates. They are made of the same high quality UHMWPE material, but are coloured a fluorescent yellow. They are designed to alert contractors working nearby to powered access equipment and pedestrians to the potential trip hazard of outrigger pads.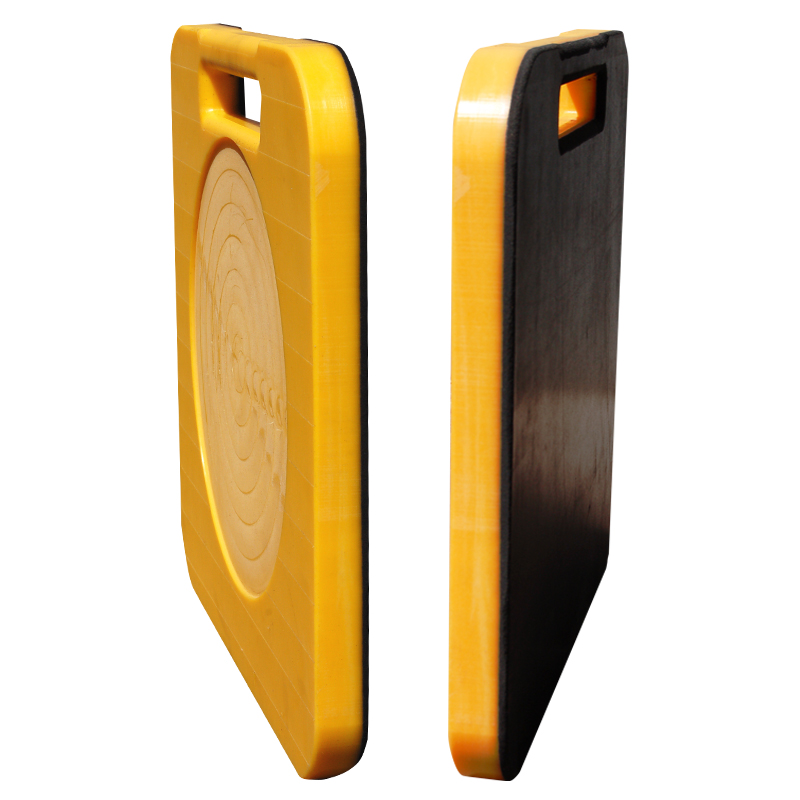 These two new innovations join our company's existing three UHMWPE product ranges with vertical load bearing capacities from 5 to 350 tonnes. UHMWPE does not splinter and has a very high resistance to vertical pressure. Coupled with the fact that it is waterproof, this significantly extends the products' working lives compared to pads made of wood or metal. The material also cleverly adapts to the contours of uneven terrain – but will spring back to its original shape after use.
Outrigger pads – also known as spreader plates – are widely used by operators of cranes, powered access and other mobile plant such as concrete pumps. They spread the pressure of a machine's stabilisers or outriggers on any terrain where load bearing capacity is an issue. Without their use, outriggers can puncture the ground, causing a serious accident if the equipment topples over. For further information read the Technical Guidance on Assessment of Ground Conditions.