Outriggerpads has expanded its Hi Viz range of high visibility spreader plates to meet demand from customers with heavier plant.
With a distinctive fluorescent yellow colour, Hi Viz pads are designed to alert contractors and passing pedestrians to the potential trip hazard of outrigger pads. Manufactured from high density polyethylene (HDPE), they offer tough and stable support for outrigger feet and jack legs.
HDPE provides protection against water, corrosion and splintering. An HDPE spreader plate retains its shape under extreme vertical pressure and can adapt to the contours of the terrain. The Hi Viz pads are also lighter weight than equivalent pads made of metal or wood.
The original Hi Viz range provided load capacities of up to 20t, making them ideal for powered access and other mobile plant. The new 750mm x 750mm x 40mm pads weigh less than 22kg each and have a 30t load capacity.
Outriggerpads has also added a circular 1,000mm x 60mm pad with a 60t load capacity. Weighing just 45kg each, and with integrated handles, they are easy for the operator to handle and position. The first customer was J. Exley Ltd, based in Batley, West Yorkshire, which is using the pads with its truck loader crane fleet, which is mainly comprised of Fassi cranes mounted on Volvo HGVs, along with the latest addition, a DAF.
Andy Watmough, Manager of J. Exley Ltd, said: "Safety is an absolute priority in our business. These pads enable us to set up safely and quickly on rough ground, while the fluorescent yellow colour ensures they are highly visible."
J. Exley Ltd is a fourth generation, family-run business specialising in dismantling, movement and installation of heavy industrial machinery. Its fleet includes rigid self-loading trucks up to 20t and articulated self-loaders up to 150t. It also provides cranes in a range of sizes and lifting capacities.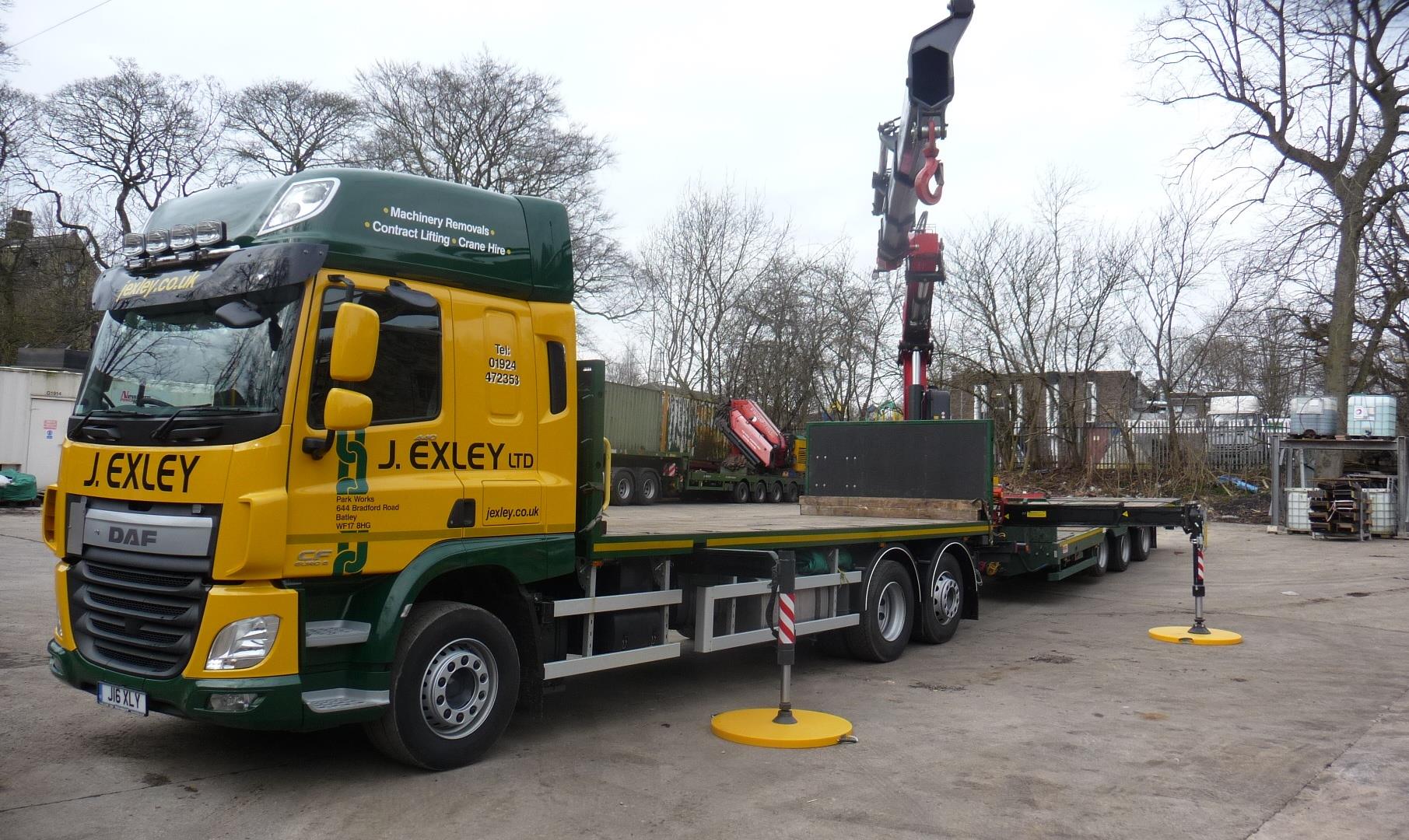 Outrigger pads – also known as spreader plates – are widely used by operators of cranes, powered access and other mobile plant such as concrete pumps. They spread the pressure of a machine's stabilisers or outriggers on any terrain where load bearing capacity is an issue. Without their use, outriggers can puncture the ground, causing a serious accident if the equipment topples over.