Lightweight and easily-cleanable spreader plates are making plain sailing of excursions for a Buccaneer caravan owner.
Philip Marr's state-of-the-art twin axle, four-berth Commodore caravan comes from the highly respected Elddis Buccaneer range. It features a remote-controlled hydraulic self-levelling system, providing six-point stabilisation along with the caravan jack legs.
"The caravan weighs nearly two tonnes so if there are any patches of soft ground, the hydraulic rams can puncture it, pushing the legs of the self-levelling system into the soil," said Philip. "I initially cut up an old garden paving slab, but it was a lot of unnecessary weight to be carrying around, so I was looking for a more lightweight solution.
"We used these caravan jack pads on soft ground recently and I was amazed to see afterwards that there was no indentation where they had been. They spread the weight really effectively, so our caravan is more stable and it doesn't damage the ground beneath it."
This is the second Buccaneer that Philip has owned; and prior to that he had a Swift Kon-Tiki motor home. He ordered the pads after seeing them featured in Caravan and Motorhome Club magazine.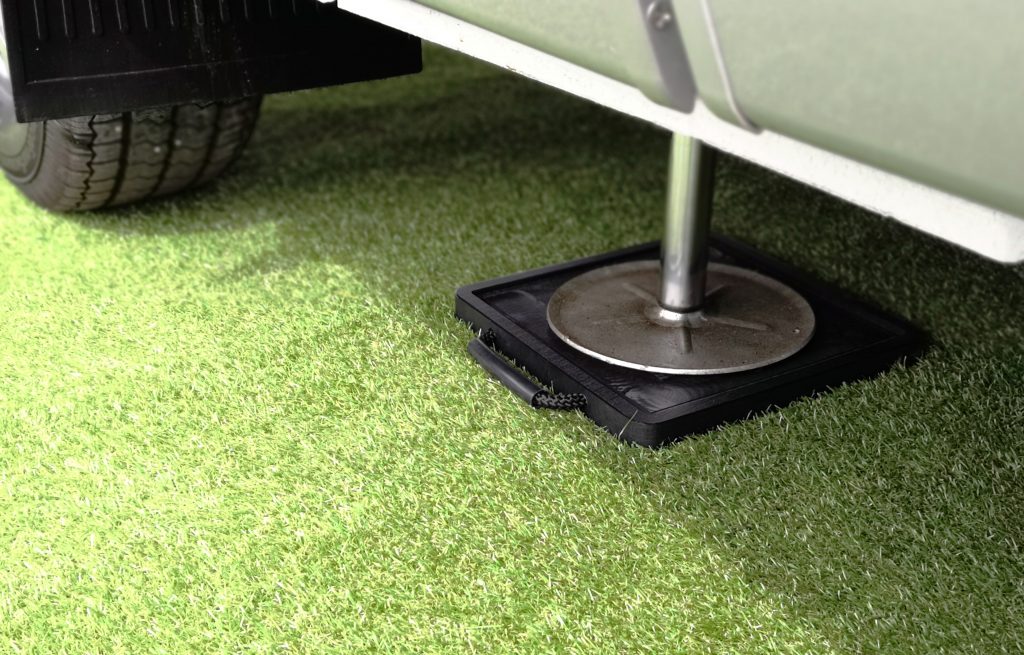 They are part of the Motorhome and Caravan range from Outriggerpads, which is also an established supplier of spreader plates for the events industry, as well as for cranes and other mobile construction equipment. Specifically designed for use on grass or soft ground, the pads sit under the jack legs of a caravan or motorhome, helping to spread the ground pressure and improve stability.
Weighing just 2kg each, the 300mm square pads have a load-bearing capability of 4,000kg. Easy to handle and transport, they enable hassle-free set up of a caravan on uneven ground. Made from high-quality, high density polyethylene (HDPE), the pads won't splinter or corrode – and they come with a lifetime warranty. The pads are easily stored and transported in a handy carry box.
"They are easy to position and don't take up a lot of room," added Philip. "They are also extremely easy to clean; the mud simply doesn't stick to them. A few other people on the site we were on came over to ask me where I'd got them from; people were impressed with the look of them, their weight and how they performed."