After the success of the ECOSTAK Kit Range, the team at Outriggerpads will soon be launching a larger version of the original kits – known as 'ECOSTAK PLUS'.
ECOSTAK PLUS, Measuring 400x400mm (as oppose to the original 300x300mm blocks)  will increase stability and spread the load over a wider area. The ECOSTAK PLUS Kit range consists of 50mm and 100mm jacking blocks and two 40mm interchangeable base blocks – a large 600x600mm base as standard and a free 400x400mm base ideal for a workshop environment where the ground is firm and space tight. Also included is a 350x350x10mm insert used to level off the stack once complete. Similar to the original ECOSTAK range there are 15 different kits to choose from, offering a wide choice of load capacities and heights with the largest providing a maximum height of 740mm.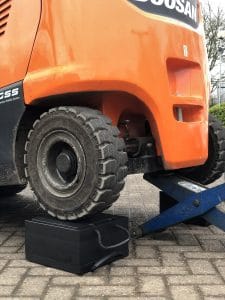 The Outriggerpads Team commented "The popularity of our original ECOSTAK kit range combined with the need to provide a greater contact surface area, has led to the development of the ECOSTAK PLUS. We're looking forward to launching these blocks into the market, and providing our customers with safer ways to support the load of their equipment."
The ECOSTAK PLUS Kits will be launching in May 2021 but are available to pre-order now. To reserve yours or to simply find out more please email the office: [email protected] or call us: +44
(0) 1952 671403. Click HERE to see the full ECOSTAK range.